My Work Speaks for Itself
Whatever your marketing needs, outsourcing can be a risky proposition. After all, you are putting your reputation on the line. I know. I've been in your shoes.
With 25+ years as a B2B marketer, I have an extensive portfolio. Here is a sampling of my favorites.
Hire with confidence – and let me put my experience to work for you.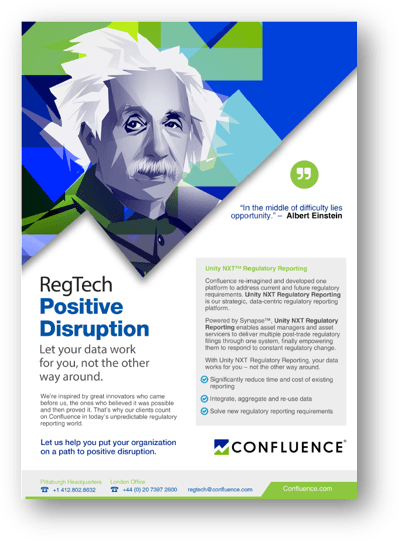 Strategic Positioning
Brand positioning is an aspect of marketing that I love most – and do best.
This example showcases my ability to create positioning that drives significant revenue growth.
RegTech emerged following the market crisis of 2008 when regulators in the UK led an initiative to bring government, technology and business together to enable better regulatory monitoring, reporting and compliance. I positioned Confluence as the first and only RegTech provider in our sector.
RegTech positioning drove record-breaking annual revenue growth and paved the way for private equity buyout.
Digital Analytics
In today's world we all need to think 'digital first'. That not only requires keeping pace with the technology but demonstrating the savvy to leverage it to make your marketing efforts more efficient, smart and predictive.
In this 2019 example, I led the creation of a sales/marketing dashboard that automatically imported data from Salesforce, Pardot and Google Analytics. The dashboard provides real-time insights for data-driven sales and marketing decision support.
Thought Leadership
In B2B marketing, thought leadership creates brand awareness – which drives leads and revenue. And that requires great content.
This is perhaps the most strategic example of my thought leadership successes.
To help articulate the Confluence value proposition at its most strategic level, I created a 'blog like' message platform called CEO Insights to capture the voice and articulate the vision of our CEO. The articles were also pitched for media placement.
Experiential Marketing
Whether managing a tradeshow or a C-level event, I know that it is the experience that really matters.
This example is one of my favorites - dinner at a castle in France with a real-life count.
Hosted for Luxembourg asset management executives during a major conference, this event provided a forum for our leadership team to engage one on one with economic buyers.
The elite caters we hired were attentive to every detail – including chocolates that carried the seal of the Grand Duke of Luxembourg.
Copywriting
From ad copy to whitepapers, I am a versatile writer. I start with understanding the audience, the value proposition and the intent of the piece – whether educational or promotional.
I pulled this example out of my archives because it's one of my favorites. It demonstrates my ability to be clever, succinct and engaging – even with a most intangible (and boring) products.
(Check out my blog – Is Writing a Lost Art in Marketing Communications.)
Demand Generation
As B2B marketers we've got lots of tools in our toolbox to drive demand.
I've had great success with webinars, attracting as many as 1,900 registrants to a single live event.
A well-executed webinar can raise awareness of your unique value proposition and drive highly qualified leads for your sales team – without appearing as overly promotional. By inviting a partner or key client to join you in the conversation it can give your credibility – almost instantaneously.
And, by posting it on-demand on your website it has ongoing value.
Brand Identity
This example is close to home for me. I had it created for my husband's optometry practice (which has since been acquired).
Before: Mount Lebanon Vision Center did not have a distinct brand identity. Their signage and online presence did nothing to differentiate them from the stiff competition in the area.
After: I gave Mount Lebanon Vision Center a much-needed facelift with this bright, crisp logo and "Totally Focused on You" brand line. The new brand identify system included signage, a website, social media creative, and stationery and business cards.
Product Launch
Products evolve… and marketers need to embrace that evolution as an opportunity to re-position the value proposition.
In this example, we were extending our Unity® product suite to include our first-ever Cloud solution. Working closely with our product management team to fully understand the value proposition, we rebranded the new offering as "Unity NXT™" and created this graphic to visually capture the vision that, while the new product is in the Cloud, Unity and UnityNXT products would continue to focus on value of shared data.
It was a tough challenge but I loved this project.
Strategic PR
There isn't a lot happening in the asset management back office that is newsworthy.
To fill the news void I introduced creative tactics like surveys and annual predictions press releases to grab reporters' attention.
I collaborated with product management to create survey questions and predictions that aligned with our value proposition.
Reporters loved the data-driven 'news'.
The survey data and predictions were used as the basis of our media messaging strategy for months to follow. They also provided great content for social media campaigns.